The following provides a snapshot of projects funded through CDHW.
Collaborative Projects
Strengthen Opioid Prevention Project (STOPP): Developing a Social Media Intervention to Prevent Use
| Cynthia Ayres, PhD, RN, FNAP | Principal Investigator | Associate Professor | Rutgers School of Nursing, Camden |
| --- | --- | --- | --- |
| Mary Wunnenberg, EdD, RN, CNE | Co-Investigator | Clinical Assistant Professor | Rutgers School of Nursing, Camden |
| Amy Beth Jordan, PhD | Co-Investigator | Professor, Journalism and Media Studies | Communications and Information, Rutgers University, New Brunswick |
| Corina Lelutiu-Weinberger, PhD | Co-Investigator | Endowed Chair of the François-Xavier Bagnoud Center, Assistant Professor | Rutgers Biomedical and Health Sciences--School of Nursing |
| Peter T. Rosario, CFRE | Community Partner | President and CEO, Ocean County YMCA and Co-Director, Toms River Family Health and Support Coalition | Ocean County YMCA |
| Pamela Capaci | Community Partner | CEO | Hope Sheds Light, Inc |
The skyrocketing use of opiates has become the number one health care crisis confronting New Jersey with a drastic surge in heroin and opiate abuse. Ocean County is the epicenter of a growing opioid epidemic gripping our state. New and innovative ways to prevent substance use in this community must be explored, as current initiatives are ineffective as evidenced by the worsening trajectory. The proposed study provides an innovative and novel approach in opioid prevention among adolescents. First, it will identify the content, format and delivery of a social media intervention. Second, it will help develop a social media intervention to be tested in a subsequent feasibility study. Lastly, it will develop study measures that will be used to evaluate impact of the social media intervention.
---
Developing an interactive county mapping tool to advance age-friendly policies, programs, and planning in New Jersey
Led by: Emily Greenfield
This project aims to produce a dynamic, web-based mapping tool for Bergen and Somerset Counties to identify the spatial locations of high concentrations of older residents with unique characteristics, such as a municipality in which there is a large percentage of older residents who speak English as a second language or who are caring for grandchildren. The mapping tool also will display the spatial locations of organizations and other community assets that are important for residents who are aging in place (e.g., libraries, social service organizations, mass transit stops, emergency shelters). The project is strategically engaging county government leaders in designing the map to optimize the tool's utility for policymakers and professional staff, as well as to deepen university-community partnerships around population aging at the county level. The team will use a case study design to examine how the map is developed, ways in which the stakeholder groups collaborate, and how the mapping project enhances age-friendly actions within county government systems and beyond.
---
Project Dream, Own, Tell: Feasibility of Engaging Significant Adults in Teen Sexual/Dating Violence
Led by: Victoria Banyard
Sexual and dating violence (SDV) disproportionately affects youth and are an early and pernicious risk factor for negative physical and mental health across the lifespan, and health disparities across communities. Yet few prevention initiatives lead to reductions in exposure and are grounded in the experiences of marginalized youth who acutely bear this health burden. A diverse group of youth engaged by the NYC Alliance Against Sexual Assault through Project Dream, Own, and Tell (DOT) have identified the lack of effective SDV prevention efforts in their community and have clearly identified the need to engage significant adults in prevention work. A collaboration between researchers, practitioners, and community members will conduct a feasibility process evaluation of current youth work with significant adults in the DOT program.
---
Towards Designing for Engagement in Indoor Air Quality in Low-Income Households
Led by: Sunyoung Kim
Indoor air pollution (IAP) is one of the most important risk factors. Low-income families are at particular risk of IAP since they often lack access to information about health problems associated with IAP and the means to address them. This project will investigate if persuasive technology tailored to unique needs of low-income families will motivate them to easily engage in monitoring and assessing IAP, which will lead to better indoor air quality. The research aims to create a persuasive technology to empower low-income families to better engage in indoor air quality; in turn, enhancing general knowledge of human perceptions and behaviors related to health threats due to IAP. Ultimately, it may lead to effective solutions to improve quality of life in impacted communities.
---
Towards Fairness in Mental Health Prediction Apps
Led by: Kaitlin Costello
This project seeks to identify and address disparities in automated mobile mental health prediction. Mobile and ubiquitous data can be used to infer the general state of an individual's mental health, and these algorithmic predictions often have high accuracy. Although these efforts hold great promise for developing and delivering health interventions, they may also be inequitable, reproducing or magnifying existing disparities in healthcare.
This project aims to: (1) Contextualize and characterize the problem of algorithmic fairness in mental health prediction via an audit of existing mental health-related algorithms; (2) Develop a framework for defining and understanding fairness by conducting focus groups and interviews with key stakeholders; (3) Propose a method for improving the fairness of mental health algorithms based on these findings.
---
Increasing Breast Cancer Screening in Women with Severe Mental Illness
| | | | |
| --- | --- | --- | --- |
| Sheila Linz, PhD, PMHNP-NP, RN | Primary Investigator | Assistant Professor | Rutgers University, Camden, School of Nursing |
| Bonnie Jerome-D'Emilia, PhD, MPH, RN | Co-Investigator | Associate Professor | Rutgers University, Camden, School of Nursing |
| Adam Okulitz-Kozaryn | Co-Investigator | Associate Professor | Camden College of Arts and Sciences |
| Sharon Simon | Community Partner | Rothenberg Center for Family Life Coordinator | Jewish Family Services |
Individuals with severe mental illness (SMI) have more difficulty accessing health care and die some 10 to 30 years earlier than the general US population. Additionally, women with SMI have an increased breast cancer risk, with greater mortality rates. Although, breast cancer screening is an acknowledged strategy for early breast cancer detection, women with SMI are 32% to 50% less likely to have regular mammography screenings. We will address this healthcare disparity through a participatory action research and budgeting project with our community partners, the South Jersey Breast Health Initiative and Jewish Family Services of Atlantic and Cape May Counties, whose Women's Health Network Program is the only community based program in New Jersey that has successfully focused on breast cancer outreach, education, and screening for women with SMI.
---
Investigating Facilitators and Barriers to Health Information: Collaborating with New Brunswick organizations to Describe Health Information Needs of New Jersey Residents
| | | | |
| --- | --- | --- | --- |
| Charles Senteio, PhD, LCSW, MBA | Principal Investigator | Assistant Professor | Rutgers University School of Communication and Information |
| Camilla Comer-Carruthers | Community Partner | Manager, Community Education at Robert Wood Johnson University Hospital | Affiliation; Robert Wood Johnson University Hospital |
| Kavita Pandey | Community Partner | Librarian, New Brunswick Free Public Library | New Brunswick Free Public Library |
| Teresa Vivar | Community Partner | Founding Executive Director | Lazos America Unida |
Low-socioeconomic status and ethnic minority populations, who are overrepresented in New Brunswick and Camden, experience barriers to health information which contribute to health disparities. Known barriers include limited health literacy, low English proficiency, and sociocultural factors. Nevertheless, health informatics and disparities literature does not elucidate barriers that institutions may present to access to health information. Therefore, we aim to describe these barriers by convening community organizations (i.e., Lazos America Unidas), healthcare (i.e., RWJU hospital) and information institutions (i.e., New Brunswick Free Public Library ) in three steps: 1) recruit subjects (New Brunswick) who represent community lived experience, beliefs, and attitudes, 2) craft solutions with these institutions to enhance health information access, and 3) transfer learnings to New Jersey communities beyond New Brunswick, specifically Camden.
---
Media for Patient and Health Education
| | | | |
| --- | --- | --- | --- |
| Gloria Bachmann, MD | Principal Investigator | Professor of Obstetrics and Gynecology and Medicine, Associate Dean for Women's Health;Director, Women's Health Institute | Rutgers Robert Wood Johnson Medical School |
| Allison Cabinian, MD | Research Coordinator | Research Coordinator | Rutgers Robert Wood Johnson Medical School |
| Lee AnnSchein, PhD, ACUE | Study Coordinator (medical students) | Medical Educator; Program Director, Medical Physics Certificate Program; Assistant Professor, Department of Pharmacology | Rutgers Robert Wood Johnson Medical School |
| Ann Dey, PhD | Study Coordinator (community health workers) | Senior Research Program Manager, HIV Prevention Community Planning Support and Development Initiative (HIV Prevention CPSDI) | Edward J. Bloustein School of Planning and Public Policy |
| Margaret Gabanyi, PhD, PMP | Project Manager | Professional Casual | Rutgers, The State University of New Jersey and RWJMS Women's Health Institute |
In collaboration with filmmakers, doctors, and scientists who followed the case histories of patients seeking treatment for HIV/AIDS, a three-part documentary film called Target Zero (http://targetzerofilm.org/) was produced that models how patients should access care they need to maintain wellness. The film shows the journeys of several HIV patients and uses molecular animations to demonstrate how current treatments target proteins in the HIV virus, thereby preventing infection. The original goal of this film was to create media for medical education, but our team noted that the films appeared useful for educating a broader audience. Focus groups of patients or providers will be shown the film to collect feedback, and their responses will determine the requirements needed to refine the film for broader audiences.
---
Screening for Social Determinents of Health (SDOH) in the Medical Intensive Care Unit
Led by: Sabiha Hussain
When managing patients who are critically ill and complex, addressing social determinants of health (SDOH) can be challenging. A health providers lack of awareness of a patient's unmet SDOH may impact the clinical and medical decisions they provide on a daily basis and long term outcomes. Thus, it is necessary to educate and offer health care providers with resources and an efficient system that incorporates social determinants of health into routine ICU medical care. Currently, such a system does not exist in despite the need to meet patients's SDOH needs. There is also a gap between patients' needs and available resources in the community. This can be improved by creating and operationalizing a system that is efficient and practical, and that is incorporated into the critical care setting, and included as part of patient's medical record to be available to care providers. This will also allow patients to be followed up even after they leave the hospital to provide continuity of care and ensure continued efforts to address their unmet social determinants of health.Through this project, we propose that screening for social determinants of health in the MICU will close the existing gap between unmet social needs and community resources, decrease readmissions following an ICU admission, and improve patient quality of life. This will also develop healthy and effective communication among healthcare providers and social workers and community stakeholders and train health care providers to be competent in SDOH.
Faculty Fellows and Graduate Student Awards
Unpacking "Agrihoods"
Lewis Bivona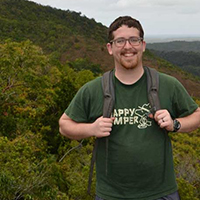 There is very little research on "agrihoods," which is a new trend in housing and community development. This project begins with a basic question: what are these real estate developments called "agrihoods"? More specifically, what are their physical design and cultural qualities, their demographic profile, and their geographic distribution? To collect this information, I will conduct an online survey of agrihood projects in the United States. The resulting responses to these questions will refine the underdeveloped concept of agrihoods, and to differentiate between: 1) agrihoods and similar types of community development projects (e.g. intentional communities, ecovillages) and; 2) different types of agrihoods. Clarifying the concept of "agrihoods" is a contribution to community development research and an important prerequisite to completing the next steps of my dissertation, including appropriate case selection.
---
Better Communicating the Transplant Journey
Sarah Fadem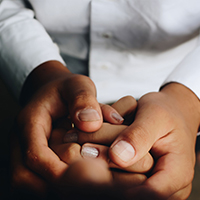 Patients who may benefit from a bone marrow transplant (BMT) are faced with a significant amount of complex information as they and their caregivers navigate this potentially life-altering procedure and work to make sense of its potential consequences. For instance, the morbidity and mortality rates associated with the procedure often lead to high uncertainty. Patients and caregivers may have difficulty accurately predicting and conceptualizing potential future outcomes and how they might respond to them. Given these challenges, understanding patient and caregiver information needs as they go through their transplant journey is critical for clinicians to provide the support required for both an informed decision and a successful recovery.
---
Family Coaching Interventions for Patients with Type 2 Diabetes
| | | | |
| --- | --- | --- | --- |
| Kristin August, PhD | Principal Investigator | Associate Professor, Psychology/Health Sciences | Rutgers University, Camden |
| Kathleen Jackson, MDNP, MA, APRN, BC-ADM | Co-Investigator | Assistant Clinical Professor, Nursing | Rutgers University, Camden |
| Marsha Rosenthal, PhD | Consultant | Visiting Faculty, Institute for Health, Heath Care Policy, and Ageing Research | Rutgers, New Brunswick |
| Francine Grabowski, MS, CDE | Consultant | Lead Diabetes Educator | Camden Citywide Diabetes Collaborative |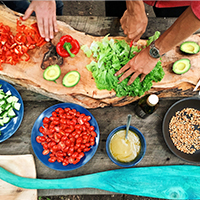 This project aims to determine the feasibility of incorporating a family coaching intervention for patients with type 2 diabetes into primary care. We will partner with primary care providers and office staff to conduct focus groups to assess their attitudes about our intervention and challenges to implementation. This particular project is the third phase in a multi-phase project that aims to use a collaborative and multidisciplinary approach to designing, implementing, and testing a family coaching intervention informed by the scientific literature and community. Specifically, we plan to leverage existing family member involvement in appropriate ways to support patients' goals and self-efficacy, reduce relationship tensions, and result in positive well-being for patients and their family member.