Summary
This project aims to determine the feasibility of incorporating a family coaching program for patients with type 2 diabetes into primary care. We are partnering with primary care providers and office staff to conduct focus groups to assess their attitudes about our program and challenges to implementation. This particular project is the third phase in a multi-phase project that aims to use a collaborative and multidisciplinary approach to designing, implementing, and testing a family coaching intervention informed by the scientific literature and community. Specifically, we plan to leverage existing family member involvement in appropriate ways to support patients' goals and self-efficacy, reduce relationship tensions, and result in positive well-being for patients and their family members.
Researchers and Partners
| Kristin August, PhD | Principal Investigator | Associate Professor, Psychology/Health Sciences |
| --- | --- | --- |
| Kathleen Jackson, MDNP, MA, APRN, BC-ADM | Co-Investigator | Assistant Clinical Professor, Nursing |
| Marsha Rosenthal, PhD | Consultant | Visiting Faculty, Institute for Health, Heath Care Policy, and Ageing Research |
| Francine Grabowski, MS, CDE | Consultant | Lead Diabetes Educator |
| Cooper Diabetes Wellness Centers | | |
| Virtua Nutrition and Diabetes Care | | |
| Jefferson Nutrition & Diabetes Education Center | | |
Initial Approach
Our multi-phase project originated over the course of several years and the idea evolved as a result of: 1) working as a multidisciplinary research team to build on our respective areas of expertise to develop the content of the diabetes family coaching program; 2) working with local diabetes educators to develop the appropriate mode of delivering the program; 3) partnering with diabetes education programs at healthcare systems in south Jersey to recruit participants for the program; and 4) communicating with primary care practices to determine the feasibility and challenges of implementing our approach into primary care.
How did the partnerships come together? 
As partnerships developed in the first parts of this multi-phase project (see above), we decided to reach out further to the primary care practices, to gain their insights on how we can further work together.
What is the primary issue or concern the community is facing that is being investigated?

A majority of individuals with diabetes see their primary care provider for diabetes care, but given the complexity of diabetes care and limited time available during primary care visits, diabetes education is an effective supplement for patients to learn about the required behaviors to successfully self-manage their disease.  Yet many individuals do not participate in diabetes education, and among those who do, education alone does not result in sustained behavior change.  
Coaching has thus become a common approach to augment diabetes education, using peers, community health workers, or health care providers. A majority of diabetes self-management occurs at home, however, with the help (and sometimes, hindrance) of family members.  Our project seeks to understand whether teaching family members coaching strategies is feasible and efficacious and whether this approach can be integrated into primary care.
How did this inform research design?
As most patients do not participate in diabetes education, we wanted to implement our existing diabetes family coaching program into primary care, where most patients receive their diabetes care.
What is the significance of this project, how is it unique?
Given the prevalence of type 2 diabetes, our project has the potential to reach a large number of individuals by targeting the context in, and with the individuals whom, individuals spend most of their time self-managing their diabetes. Our approach also can be applied to other chronic conditions that involve self-management behaviors.  Our project is unique in that it utilizes existing family member support and teaches these family members positive communication strategies (coaching), which have been shown to be effective in improving diabetes outcomes. 
Evolution and Change
Have you adjusted your research goals or methods due to the COVID-19 pandemic?
We have adjusted our methods for both phase 2, and phase 3 (the part of our project funded by CDHW).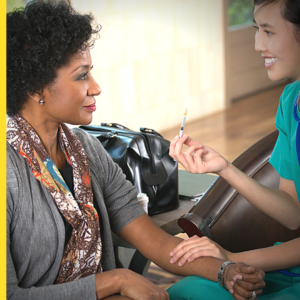 The primary research method for phase 2 is to hold family coaching sessions in small groups (comprised of patients and a designated family member) over a 4-week period and have participants complete surveys at three time points (baseline, immediately post-intervention, 3 months post-intervention).  The primary research method for phase 3 is to conduct focus groups with primary care office providers and staff to determine the feasibility and challenges of incorporating our approach into a primary care setting.  We also are asking practices to complete a brief survey so that we can have a better understanding of the staff and diabetes patient populations in order to tailor our approach accordingly.  As a result of the pandemic, all interactions with participants are now virtual (via Zoom) and all surveys are now completed online (via Qualtrics).
We have worked with diabetes educators to help us present the information (e.g., format, level) included in our program to optimize individuals' understanding; we also have worked with diabetes education programs to recruit participants; finally, we have contacted primary care offices in south Jersey to participate in focus groups and complete our survey about staff and patient characteristics. 
Are there unique challenges to this study?
Given the current pandemic, it has been challenging to recruit participants for phase 2 of our project, as our main method of contacting participants was through attendance at diabetes education classes. As many healthcare systems are no longer holding diabetes education classes (and ones that are hold them virtually), we had to broaden our recruitment to include online methods (e.g., social media) to directly target people with diabetes and other diabetes educators in New Jersey.  In addition, primary care offices that will be involved in phase 3 of our project have limited availability to participate in research during this busy time.
Results and Findings
Although we have not analyzed data from phase 2 of our project and have not yet completed phase 3, we have received positive feedback from participants (people with diabetes and their family member) who have completed program evaluations and focus groups at the end of the intervention sessions. Some notable feedback is presented below.
"This program enacted positive changes in my [diabetes] treatment."

"Anyone who takes the class will get something out of it… whether newly diagnosed [with diabetes] or had it for a while, all of the information can be useful…"

"Most people with diabetes are on their own. But to have a coach to support you – they can help you reach goals and get healthier."

"I was not only able to use the techniques successfully with my partner, but also in other life situations."
Did the study change or evolve based on your work with community partners?
Yes, working with diabetes educators in the community has helped us understand how to best present the information (e.g., format, level) included in our program to optimize individuals' understanding and incorporation into their everyday lives. We also expect that the feedback we receive from primary care office providers and staff will help us recognize potential challenges and provide us with ideas to implement our program successfully in that setting.
How will your findings impact or benefit the communities you are working in? 
Our hope is that teaching coaching strategies to existing social network ties (family members) to help them more effectively support diabetes self-management has great potential to support patients' goals and self-efficacy, reduce relationship tensions, and result in positive well-being for patients and their family member. Further, given the limited time primary care providers have with their patients to educate and support their diabetes care, this approach may improve clinical outcomes.
Funding for expansion
Our goal is to complete focus groups with primary care practices (phase 3) this spring.  In the summer, we plan to analyze data from this phase, along with phase 2 (pilot testing the intervention).  During this time, we also plan to identify possible funding opportunities for a larger scale implementation of our program into primary care.
Supplement existing programs
If we find evidence that our approach is feasible and efficacious, it has the potential to supplement community-based diabetes education and be integrated into primary care in a sustainable and cost-effective way.
Learn more about the project