Summary
This project arose from a recognition by providers at the Rutgers Cancer Institute of New Jersey (CINJ) that patients and caregivers were struggling to understand the consequences of a bone marrow transplant (BMT) when facing treatment decisions. Through a collaborative effort between providers, patients, and caregivers at CINJ and researchers from the Rutgers School of Communication and Information, our team has worked to develop a tool to aid in patient/caregiver pre-BMT sensemaking.
Researchers and Partners
| Sarah Fadem | Communication design, User experience, Health communication | Doctoral Student, Rutgers School of Communication and Information |
| --- | --- | --- |
| Lisa Mikesell | Health interaction, Community-based research, Clinical practice | Associate Professor of Communication, Rutgers School of Communication and Information |
| Mark Aakhus | Communication design, Decision support, Conflict management | Associate Dean for Research and Professor of Communication, Rutgers School of Communication and Information |
| Sunyoung Kim | Human-computer interaction, Design for health and sustainability, Community engagement | Assistant Professor of Library and Information Science, Rutgers School of Communication and Information |
| Roger Strair | Clinical expertise, Medical oncology | Chief Hematologic Malignancies and Blood and Marrow Transplantation, The Cancer Institute of New Jersey |
Initial Approach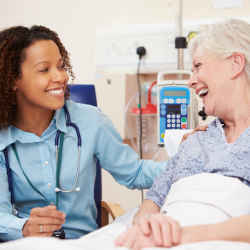 Initially, our focus was on improving the decision-making process through a decision aid. We began by developing prototypes for two features: one that presented patients and caregivers with more accurate and personalized statistical outcomes information, and another that featured videos of patients and caregivers who had been through transplant sharing their experiences. 
As this research progressed, it seemed that the challenges of BMT may benefit from an approach that targets patient and caregiver sensemaking rather than decision making.  Stakeholder feedback on the prototypes raised questions about where in the pre-BMT process this support tool would be most beneficial. To investigate this further, we held remote participatory design workshops with patients and caregivers in which participants were asked to create visual timelines of their experiences leading up to transplant and to ideate around new ways of providing support.
Evolution and Change
The participatory design workshops were originally designed to be held in person, but due to the pandemic and the needs of this patient population, we adapted the methods to a remote setting. Participants were mailed participation packages in advance and met with the researchers via video call.
Results and Findings
Findings from the PD workshops suggest that patients and caregivers need support for the challenges they face in the period leading up to BMT, not just for decision-making.
Our original prototypes were heavily focused on making sure that patients and caregivers understood what the future might look like, but in asking them to elaborate on their experiences pre-BMT we found that they struggled to make sense of their experiences in this period as well.

This made it more difficult for them to use information about the future while they were actively facing setbacks leading up to transplant.
Moving forward, these findings will be used to update the current support system prototypes and in continued development of a methodology for incorporating stakeholder perspectives into the design for sensemaking support.
Learn more about the project